Plastic Craft Lace Lanyard Gimp String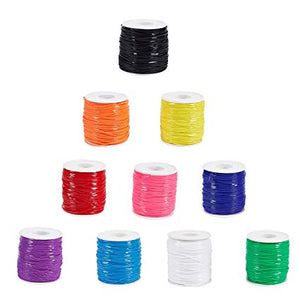 Plastic Craft Lace Lanyard String is an extruded flat PVC vinyl

 
plastic cord made for craft and hobby applications.

 
You can call it: lanyard string, craft lace, plastic lace, plastic lacing, rexlace, plastic lanyard, plastic lace craft, plastic lacing cord, or britelace. We are your one stop shop for all your lanyard & gimp string crafts. You can use this plastic lace to make key-chains, lanyard necklaces, gimp bracelets, key fobs, lanyards,earrings, zipper pulls, jewelry, and much more. If you need gimp string and lanyard string books and kits we have you covered too! We carry over 60 colors and have cheap bulk wholesale pricing. Plastic Lacing has 100 yards (91 meters) per roll. Britelace has 50 Yards per roll. proudly made in the USA. 
This brand of craft lace has been key staple in summer camp crafting for generations. When used as a knotting cord, 1 foot of Lanyard Cord = about 1 inch of stitches/knots. Plastic Lace measures: 3/32" (.092" or 2.3mm) wide and 1/32" (.035" or 0.88mm) thick.

 
Vibrant Colors. Non-Bleed, Very Durable. Made for ages 5+. This item is latex free and Non-toxic.