Plaster Letter Molds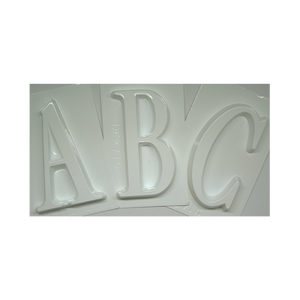 At Art Cove Crafts we have plaster letter molds or letter plaster molds. These plaster molds for crafts can be used as a great inexpensive craft projects for kids or adults. Many call them plaster of paris molds because these molds are filled with plaster of paris which You can buy at any local hardware store. Many will call them plaster moulds or plaster of paris moulds as well. Plastercraft is very easy to do. Simply mix water with plaster of paris. Pour into the mold and let dry overnight. Paint your finished project with acrylic paints. These plaster molds are made of a durable plastic, so they can be used dozens of times. Plaster Molds we carry: angels, animals, birds, Christmas, clowns, fish & mermaids, toilet seats, letters & numbers, picture frames, kitchen molds, religious, sports, plaster molds for kids and much more. So look no further for molds for plaster of paris because you can buy them right here. We are told by our customers that many use these molds with liquids other than plaster such as chocolate, soap, and wax. Since these molds are designed for plaster so we do not recommend using them for other purposes, but you are welcome to experiment at your own risk. This is a great inexpensive craft to buy for schools, camps, diy projects and birthday parties. We are constantly adding new molds so check back with us soon!


Sorry, there are no products matching your search.